Save On Stitch Inc. is a dedicated supplier that provides a multitude of logo-decoration services that include embroidery, screenprinting, sublimation, heat transfer, digital printing, as well as various other related services that complement the production line, including digitizing and vectorizing, in order to provide a "one-stop-service" experience to our valued clients.
Our specialty product lines include microfiber towels, cut-and-sew custom t-shirts, banners (with or without stand), flags (teardrop, feather, rectangular), trade show table cloth/covers and more. All products are made in Canada and custom made to order to ensure highest quality.
We have been in the industry for more than twenty years and have established solid production experiences with unbeatable services. We can do logo decoration on almost all types of garments, caps, bags, towels, and many other media. Send us your artwork in any format, be it digital or in print, or even a hand-drawing sketch, we will work with you to create the perfect image for you and make it shine.

News and Updates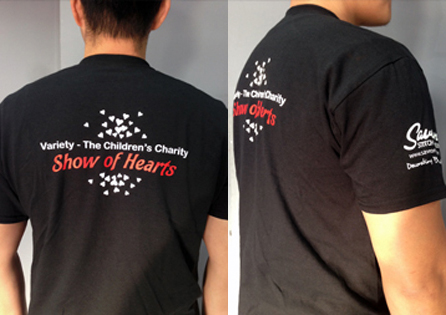 Sponsoring the Variety Show of Hearts Telethon
February 2016 on Global BC
Save On Stitch & Screen Inc. has been a proud sponsor to 2015 and 2016 Variety Show of Hearts Telethon events, as the only screenprinting sponsor. Hundreds of t-shirts were printed carefully in house and donated for the cause. The Show of Hearts Telethon is a weekend that brings families and communities together to raise money that changes lives. This year we have a new show with exciting entertainment and inspiring little victory stories from around the province. Read More...